Oil spills are a hazard to marine life and their habitat. In support of planning and responding to oil spills, Clallam MRC offers two types of training annually to provide community members with the skills needed to respond to an oil spill. The Hazardous Waste Operations and Emergency Response (HAZWOPER) training provides basic training in who is involved in oil spill response, precautions required for those responding to a spill, and the current state of spill response preparedness. Oiled wildlife rescue training provides an opportunity to learn the skills needed to search for, capture, and rehabilitate oiled birds and other wildlife.
Clallam MRC also offers workshops and public forums to facilitate communication between entities working on oil spill response and the community.
The last two years the Clallam County Commissioners have read proclamations declaring MARCH the
Oil Spill Preparedness Month
In 2018 as part of the Oil Spill Preparedness month Clallam MRC and Department of Ecology hosted a webinar about on improvements and challenges Washington's oil spill program faces. The webinar is now posted on Ecology's website. 
HAZWOPER Training
Once a year Clallam MRC along with Washington Department of Fish & Wildlife, the U.S. Coast Guard, Focus Wildlife and Washington Department of Ecology host a HAZWOPER training in Port Angeles.
The one-day training covers how to recognize, react, and protect yourself from the hazards associated with an oil spill. The class provides information on hazardous situation recognition, personal protective equipment, decontamination procedures, and an overview of how oil spill response operations are conducted. Several videos were shown to demonstrate the different topics including a very amusing video about spread of contamination by a person. The class also examines hazards associated with working around oiled wildlife, however, it should be noted that while some of the subject matter discussed is related to oiled wildlife specific hazards, this training is not a wild-life handling or treatment course.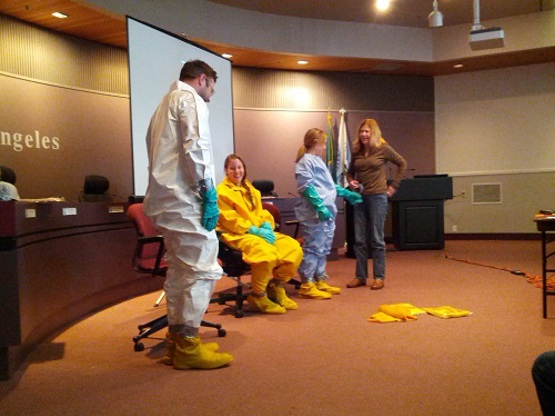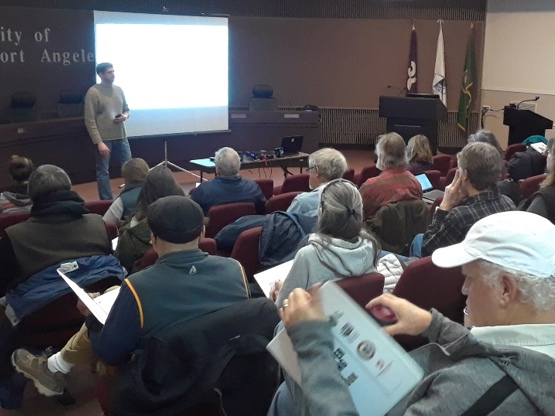 Upon completion, the participants receive an 8-hour Hazardous Waste Operations and Emergency Response certificate. An annual renewal of the certificate is a requirement for being able to work in the field during an oil spill.
Since 2010 more than 540 volunteers have received the annual required HAZWOPER certificate through this program and in March 2019 another 39 volunteers received their certifications.
Oiled Wildlife Training
Every year Clallam MRC and Island Oil Spill Association partner to host two oiled wildlife trainings at the Clallam Fairgrounds. The first of the two trainings focus on Basic Intake and Stabilization. The participants learn basic bird anatomy and how to take care of oiled birds. The training includes working with live ducks learning how to hold, weigh, and give them fluids and how to perform a general health examination. The participants also have the opportunity to examine several different species of dead frozen birds.
The second oiled wildlife training focuses on Search and Capture. The participants learn about search & collection procedures including stalking and netting birds and how to perform an initial "beak-to-tail" examination and safely handle birds. The last part of the training is conducted in the field at Ediz Hook where the participants practice search and capture techniques.
The 2018 two oiled wildlife classes were completed in March. Since 2010 more than 360 volunteers have received the oiled wildlife training.