The large brown algae commonly known as 'kelp' provide habitat to a variety of species in Puget Sound, and are considered critical habitat warranting protection. Conspicuous declines in the abundance of bull kelp (Nereocystis luetkeana), the most common canopy-forming species in Puget Sound, have been observed in many areas.
Scientists are currently investigating whether growing kelp can reduce CO2 levels in the inland marine waters of Puget Sound.
In 2014 the Northwest Straits Commission launched a regional survey of bull kelp beds using a kayak-based survey protocol. Several agencies including the Department of Natural Resources are interested in the on-the-ground surveys to confirm the data based on their flight surveys. The following video gives you a better idea of the project. Clallam MRC joined the effort in 2015.
In April 2018 Suzanne Shull, NWSC, gave a presentation summarizing the results of three year's volunteer surveys at the Salish Sea Ecosystem Conference in Seattle. The presentation with notes is available here.
In March 2020 the NWSC and the seven MRCs participated in a WebEx meeting to discuss the kelp bed monitoring program. This presentation summarizes the data collected by the MRCs. The Encyclopedia of Puget Sound has written a interesting article about kelp beds in Puget Sound.
In May 2020 the Northwest Straits Initiative along with NOAA - NOAA Fisheries, Washington Department of Natural Resources, and several marine conservation non-profits published the Puget Sound Kelp Conservation and Recovery Plan. The Kelp Plan provides a research and management framework for coordinated action to improve understanding of kelp forest population changes and declines, while also working to implement and strengthen recovery and protective measures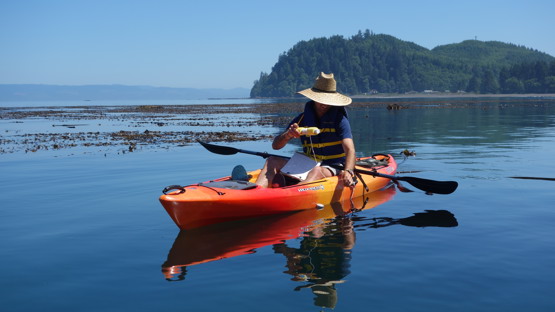 Freshwater Bay Kelp Beds 2016-19
Since 2016 Clallam MRC has surveyed two kelp beds in Freshwater Bay. The effort includes delineating the extent of each kelp bed  and estimating the distribution of the two most prominent species - bull kelp and giant kelp. In addition, starting in 2017 Clallam MRC has explored the possibility of collecting plankton samples within and outside the kelp beds. The map below shows the extent of the two beds from 2016 to 2019.
green - 2016, red - 2017, yellow - 2018 and orange - 2019.
Clallam Bay Kelp Bed 2017-19
In 2016 a land-based reconnaissance trip looked at several kelp beds between Deep Creek and Neah Bay. The kelp beds along the Strait are usually very large and therefore not suited for the kayak survey technique. However, one smaller kelp bed in a relatively protected area west of Clallam Bay was identified as a possible kelp bed to be surveyed in 2017.
Similar to the effort in Freshwater Bay the kelp bed was delineated, the composition of the two most common kelp - bull kelp and giant kelp - was estimated and the collection of plankton samples was explored. The map below shows the extent of the kelp bed from 2017 to 2019. 
red - 2017, yellow - 2018 and orange - 2019.