Olympia Oyster Restoration
Since 2012 Clallam MRC has participated in the Puget Sound wide effort to restore Olympia oyster habitats. The purpose of the effort is to restore the ecosystem services that dense beds of native oysters once provided by creating a structured habitat for a diverse community of organisms. The overall goal was to restore 100 acres of Olympia oyster beds by 2020, but the effort continues.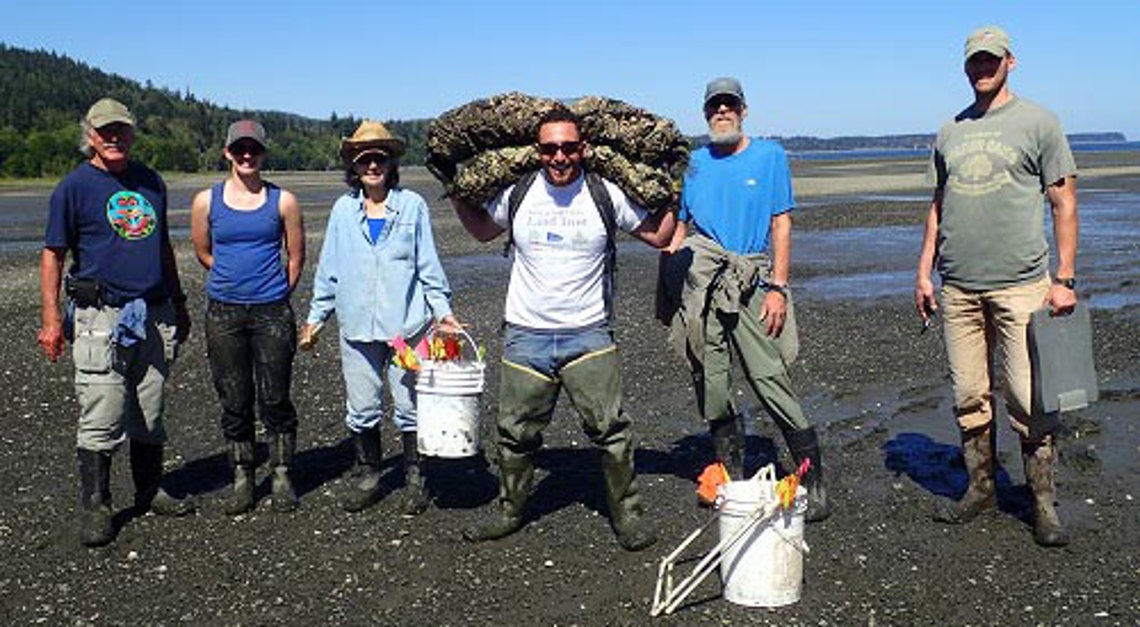 Sequim Bay Restoration Efforts
In 2012 Clallam MRC partnered with the Jamestown S'Klallam Tribe in an effort to restore Olympia oysters in Sequim Bay. Approximately 6,200 Olympia oyster seed in grow-out bags were planted on Jamestown's Sequim Bay tidelands. The goal was to restore 2 acres of self-sustaining Olympia oysters by 2020.
In 2013 seeded cultch bags with approximately 500,000 oysters were spread onto the tidelands and in 2014 seeded cultch bags with approximately 250,000 oysters were spread on to an additional half acre.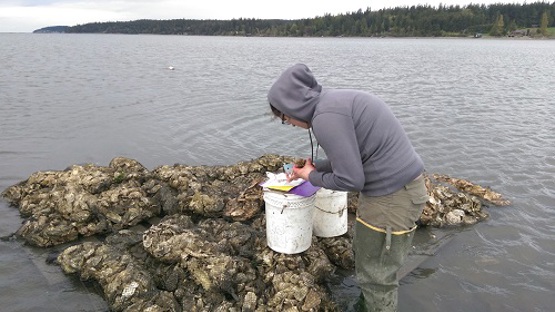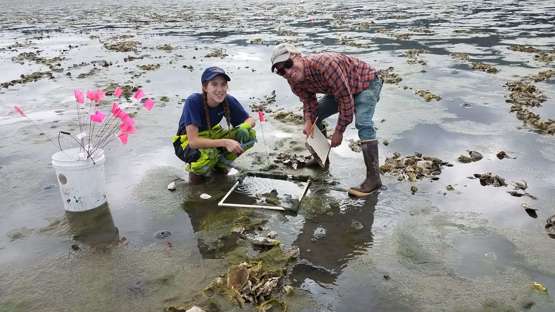 In 2015 several efforts were taken to improve spawning and settlement of larval as well as studying the distribution of newly settled oyster larvae. Spawning pools were constructed to trap and retain seawater on the outgoing tides and thereby provide an enhanced environment with warmer water and Pacific oyster shells as settling material for the Olympia oyster larvae. In addition, shell strings were used as settlement and recruitment tools.The larval connectivity study utilized the attribute that Olympia oysters brood their larval internally for a couple of weeks before releasing them as a way to track the settlement and distribution of Olympia oysters.
A survey conducted in August 2015 found that the Olympia oyster bed had increased to cover an estimated 0.67 acres. Similar surveys have been conducted annually and in 2018 the Olympia oyster bed covered an areas of 1.5 acres. However, a sizable proportion of the bed (about 0.5 acres) is outside the restoration site.  The survey also documented that the oyster bed was substrate limited. So in 2019 Jamestown S'Klallam Tribe purchased truckloads of clean shells and spread them at the site.
After the busy 2019 restoration season the 2020 season at the restoration site was quiet giving the Olympia oyster population time to respond to the blank shells spread in 2019. In August 2020 population surveys were conducted at the two restoration sites (see section below) to investigate if the goal of restoring 2 acres of Olympia oysters was met.  The goal was not met as Olympia oyster beds were documented on approximately 1.60 acres of tidelands. However, because Jamestown's Natural Resources staff has observed a notable increase in Olympia oysters throughout the Blyn tidelands, a large-scale survey to identify patches of Olympia oysters throughout Jamestown's tribal tidelands was conducted in March and July of 2020. The data from this large survey is being worked up in the winter of 2020.
The restoration effort will continue in the years to come to increase the density of oysters within the bed and to extent the bed to cover the whole restoration site.
As part of the restoration effort Clallam MRC has funded oyster seed, clean shells, an educational brochure about restoration of the Olympia oyster and a summer intern in 2014, 2015 and 2019.
Other Restoration Efforts
The successful restoration effort in the southern part of Sequim Bay has spurred Clallam MRC to look for other potential restoration sites in Sequim Bay.
In 2017 Clallam MRC purchased additional seeded cultch from Puget Sound Restoration Fund to be used to establish a new restoration site, depending  on the outcomes of the search for a new restoration site, or replenish the population at Blyn.
Several sites were investigated including Pitship Point adjacent to the John Wayne Marina, Washington Harbor, Dungeness Farms and Cline Spit. Unfortunately none of these sites was identified as a suitable restoration site.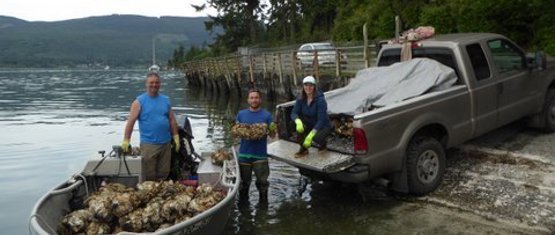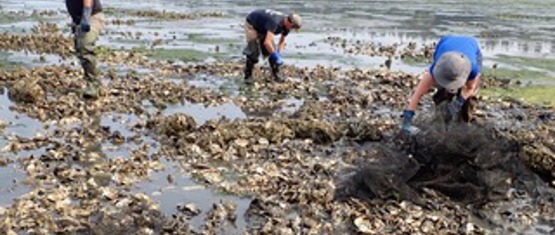 In May 2018 Jamestown S'Klallam Tribe suggested expanding the restoration effort using the 1/3 acre tideland at the head of Sequim Bay leased from Washington Department of Natural Resources. In summer of 2018 more than 100 bags of Olympia oyster seed were spread at the new restoration site and in summer of 2019 Clallam MRC purchased 850 bags of clean shells and spread them at the site.
In 2017 a Special Use Permit was submitted to USFWS asking for permission to install two test plots at the Dawley Road site in Sequim Bay. September 2018 the permit was granted and on October 5th Jamestown S'Klallam shellfish biologist along with two MRC members and staff installed the two test plots. In late summer 2019 the two test plots were revisited and unfortunately based on the survival and growth of the oysters it was decided not to pursue restoration of Olympia oysters at the Dawley Road site.